About The Woodstock Dragon Boat Festival
2019 Dragon Boat Festival Map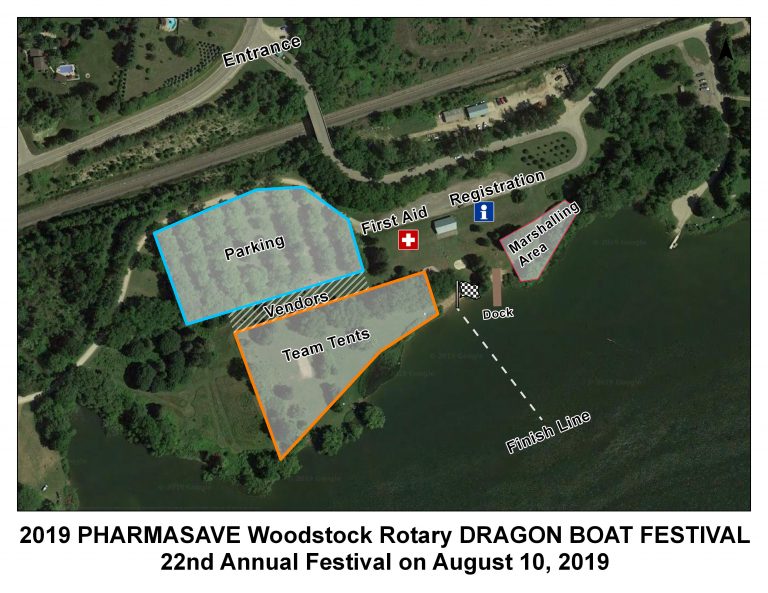 See photos from past festivals!
Dragon Boat Canada Sanctions the Festival
Directions from Toronto (Hwy 401)
– Take 401 West to exit at #250 (Drumbo)
Turn right at the stop sign. Follow this road (County Road 29) all the way to Innerkip and around the curve to the left, where it turns into County Road 4. Continue out of Innerkip and follow the road to County Road 17. for 5 Minutes
Turn Right onto County Road 17 (This road only goes to the right). If you have gone over the train tracks and bridge then you have gone too far and missed County Road 17.
In 3 or 4 minutes on County Road 17 you will come to an intersection with a car body shop on the left. Turn left here and you will be at the Conservation area in less than a minute. If you miss this intersection just keep going to the next stop sign (at Hwy 59)and turn left. You will see the signs directing you to the festival and the Conservation Area.
Directions from Toronto (Hwy 401)
– Take 403 to 401 and exit at Exit # 230 then follow instructions below
Directions from London on 401 East
Take Exit # 230 onto Mill Street North into Woodstock.
Follow Mill Street to the end at Dundas Street. Turn right
At the top of the hill turn left onto Vansittart Ave.
Take Vansittart Ave out of Woodstock, over the bridge and turn right at the Conservation Area sign.
For anyone wishing accommodation in Woodstock for the Festival, our Gold Sponsor the Quality Hotel and Suites has a special rate for dragon boaters.
You can call them direct at 519-537-5586.
Please mention the "Dragon Boat Group Block" to get the special rates. Rates are $99.99 for a standard room non-smoking with two queen beds.
About The Woodstock Rotary Club
Since it's charter in 1924, the Rotary Club of Woodstock has contributed significantly to the four avenues of Rotary Service: Club, Community, Vocational and International.
The Rotary Club of Woodstock continues to fund Community and International service projects.
The following is a condensed list of significant contributions that have been made by the Club through the efforts of it's members.
Support for Crippled Children and Clinics
High School Scholarships
Furnished Children's Ward at Woodstock General Hospital
Financial Assistance to Woodeden Crippled Children's Camp for swimming pool
Funds raised to build Blossom Park School
YMCA Building Fund
Donation for addition to the Woodstock Public Library
Furnished Dressing Rooms at the new Woodstock Arena
Equipment for the London Crippled Children Treatment Centre
Built residence for mentally handicapped adults
Handicap Van for the Woodstock Board of Education
Support for the Women's Emergency Centre
Passive Motion Machine for the Woodstock General Hospital
Jaws of Life for the Woodstock Ambulance Service
Land for Developmental Services
Ronald McDonald House, London
Funding for Rotary International Polio Plus Project
Woodstock Police Community Van
Woodstock Community Complex Fund
Thames Valley Children's Centre
Woodingford Lodge
Crime Stoppers
Upper Deck Youth Project
Rotary Environmental Parkette Project
Racing Against Drugs Program for Youth